Welcome!
This website promotes our research exploring the benefits of arts-based mindfulness group work for the improvement of resilience & self-esteem in marginalized children and youth.
Through our research, we developed a fun and effective 12-week arts-based mindfulness group program that engages children and youth in a strengths-based & meaningful helping process. The program is called HAP (Holistic Arts-Based Program). HAP was recently published in its entirety in: Facilitating Mindfulness: A Guide for Human Service Professionals. 
Arts-based mindfulness activities teach children how to pay attention; use their imaginations; identify and express their feelings, thoughts, and behaviors; and develop their strengths.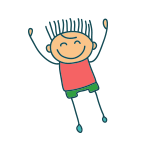 Our program helps young people to:
improve self-awareness and to feel better about themselves

learn the healthy expression of feelings and improve emotion regulation

develop more effective coping strategies at home and school
ATTENDEES IN 32+ TRAINING WORKSHOPS & WEBINARS
Our research has been funded by the Social Sciences and Humanities Research Council of Canada.