Welcome!
This website promotes our research exploring the benefits of arts-based mindfulness group work for the improvement of resilience, self-esteem & wellbeing in marginalized children and youth.
Through our research, we developed a fun and effective 12-week arts-based mindfulness group program that engages children and youth in a strengths-based & meaningful helping process. The program is called HAP (Holistic Arts-Based Program). HAP was recently published in its entirety in: Facilitating Mindfulness: A Guide for Human Service Professionals.
Arts-based mindfulness activities teach children how to pay attention; use their imaginations; identify and express their feelings, thoughts, and behaviours; and develop their strengths.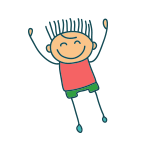 ATTENDEES IN 32+ TRAINING WORKSHOPS & WEBINARS
Our research is funded by the Social Sciences and Humanities Research Council of Canada.
We are currently facilitating and studying HAP in elementary and high schools across northeastern Ontario.
Our objectives are to:
1. teach young people mindfulness skills & concepts that could lead to improved resilience including abilities to focus, cope, and engage in effective relationships;
2. train teachers, social workers, early childhood educators and other school-based personnel in arts-based mindfulness methods, which may impact the resilience of school systems;
3. investigate the delivery processes and outcomes of different formats of HAP (traditional 12-week program, whole class format, imbedded in the curriculum); and,
4. educate parents/guardians in arts-based mindfulness methods, which may reinforce the students' learning and improve family systems.